Think you're not "creative" enough to do Bible art journaling? I beg to differ! These five solutions of Bible journaling for non artists prove that even non-crafty folks can start creating in their Bibles.
This post and the photos within it contain affiliate links. If you make a purchase after clicking an affiliate link, my ministry gets a small commission, with no extra cost to you. See my full disclosures HERE.
More than likely, you've seen gorgeous images of Bible journaling, and wished you could do that too. Perhaps you've seen the posts on Pinterest or Instagram. Maybe you even have a friend who's really into it, and seeing her journaling Bible makes you long to do that yourself.
"But, I'm not creative", you say. Maybe you wish you could be all crafty, but that's just not your thing. And if that's the case, I have good news for you!
When it comes to Bible journaling for non artists, it's not about how ARTISTIC you are, it's how creative you CAN be. Let me explain. God made each of us creative in unique ways: the crafty ones, the science geeks, the writers and speakers, teachers, and everything in-between.
And thankfully, there are many creative ways to spend time in God's word, that don't require any prior artistic skill. You just need to find what works for you, and then do that.
How do you do creative Bible journaling?
So, then, you might ask, 'how do I find what works for me'? You just need to start exploring your options, try out a few things, and see what works. Start with some Bible journaling basics, and if you want to stick with just that, it's totally okay. But if you want to try something a bit more advanced, go for it! If it doesn't work for you, you can always go back to basics.
The key is to discover the Bible journaling techniques that will help you to study God's Word on a deeper level. If it helps you focus, and it helps you to process and record what God is teaching you as you study His Word, then that's all that matters! The whole point of Bible art journaling is not just to make pretty pages, but to grow closer to God. Creativity is simply one of many tools in your toolbox, to learn and understand the Scriptures.
5 Ways to Do Bible Journaling for Non Artists
Like I said, there are plenty of Bible journaling for beginners options. Just because you're not an "artist", doesn't mean you can't use journaling as means to study the Bible. Here are five simple Bible journaling ideas you can try, starting with the two easiest, and moving on to three slightly more advanced (but still easy) options.
1) Note-Taking
I remember being in church as a youth, and seeing some older lady's Bible that was all marked up with highlighters and post-it notes. At the time, I thought it was an abomination. Who writes in their Bible?! But of course, now I see the benefit of journaling. Before artistic Bible journaling became so popular, Christians everywhere were simply highlighting verses and scribbling notes in the margins.
This most basic kind of journaling is something anyone can do. And, you can do it however you like. Use one color of highlighter, or get a set of 10 colors and designate a different color for each subject. (For example, yellow for wisdom, blue for prayer, etc.)
And, as I mentioned in this post, colored pencils make excellent highlighters as well! They don't ever bleed through the page, and tend to come in an even greater array of colors than traditional highlighters.
2) Coloring Bibles
Speaking of colored pencils, did you know you can purchase a journaling Bible with pre-printed art in the margins, such as this Beautiful Word Bible? It's like a coloring book built right in! This is by far the "easiest" way to do Bible journaling for non artists. You can just color the art that's already provided, and never have to create any of your own.
Prismacolor Premier colored pencils are my #1 recommended item to start Bible journaling for beginners (besides the Bible itself, of course!). They go on smooth, and are gentle on the delicate Bible paper, whether you're using them in a coloring Bible or a regular journaling Bible.
My only suggestion, is that if you decide to go with a coloring Bible, don't be afraid to add your own notes and highlights. In other words, don't get so absorbed in coloring the art that's already printed on the page, that you forget to really study and meditate on God's word.
3) Stamps
Want to go to the next level, and add more art to your Bible? Stamps are an excellent way to do it! The art is already created, all you have to do is put it on the page. I can't say enough great things about Sweet 'n' Sassy stamps—they have tons of amazing stamps that are specifically for Bible journaling, and most of the stamps I own are from them. You can also find Bible journaling stamps on Amazon, or at craft stores like Michaels. For more on how to get started with stamps, check out my stamping for beginners post.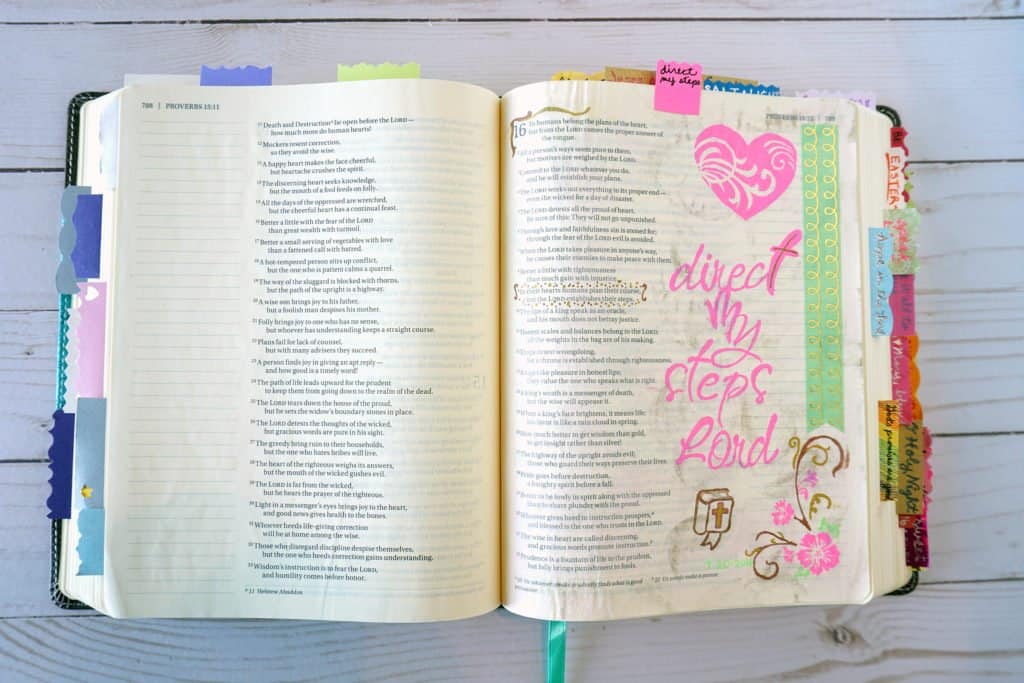 4) Stickers, Washi Tape, and Ready-made Kits
Another way to bring beautiful art into your Bible journaling with very little effort, is by pasting in things like stickers, washi tape, and other paste-able items. (The example above, I made with a combination of stamps and washi tape). You can buy those things individually at any craft store, or Illustrated Faith makes excellent Bible journaling kits, that include an assortment of stickers, washi tape, and much more.
5) Traceable images and stencils
One more way to do Bible journaling for non artists, is by purchasing printable artwork that you can then trace onto your Bible page. There are many great artists out there who provide these; I especially love the art of Krista Hamrick. My Ultimate Bible Journaling Resource Book also includes several traceable images that correspond with the weekly Bible journaling prompts in the book.
✝️ I do hope these simple Bible journaling techniques help you to dive in, and get started journaling!
The whole point of art journaling is to get deeper in God's word, study the Scriptures, and record your thoughts and/or insights that God is giving you as you study. The method you use to do that, is much less important than the purpose. ❤️
Hi! Thank you so much for visiting Divine Creative Love. I'm a Jesus-lovin' girl, lettering artist, designer, and general creative-at-heart. And, I have narcolepsy. I blog about faith in God, overcoming challenges, and creative topics such as Bible journaling. If you're new here, be sure and subscribe to my list so you won't miss anything!