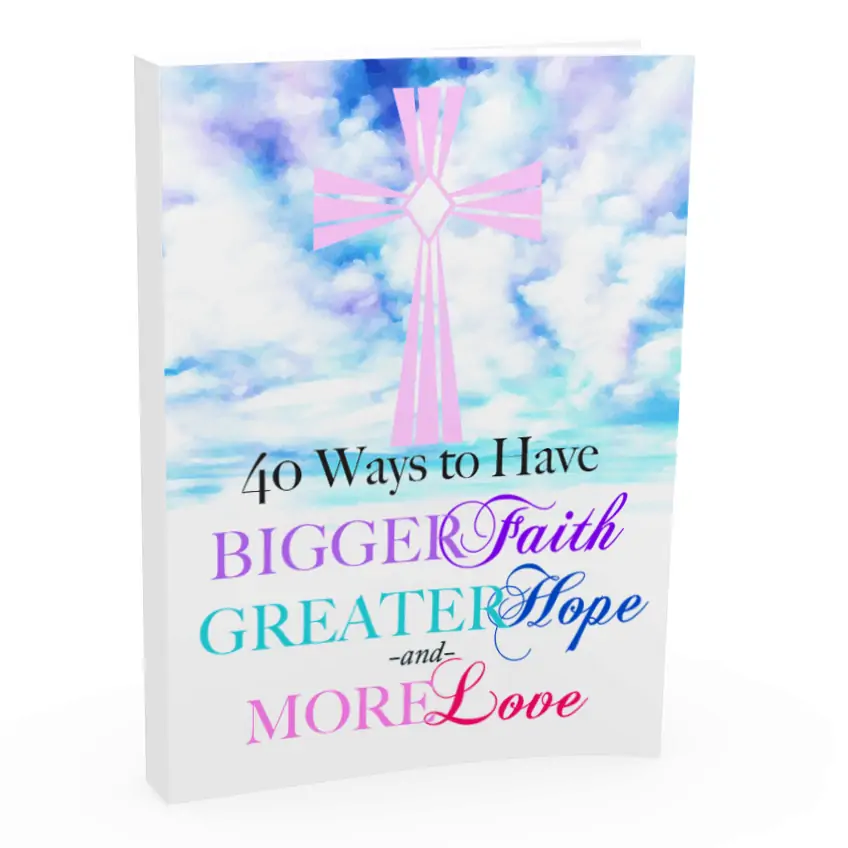 Howdy, friend!
Do you ever feel like your faith is lacking? Like you want to believe in all of who God is, His promises, and His presence in your life, but nagging doubts and/or lack of hope are dragging you down.
I've totally been there! A few years ago, I went through a season of doubt: I was depressed about the prayers God hadn't answered, and at times I questioned His very existence.
Nowadays, my faith is much stronger than it's ever been, but even so, it's impossible to avoid those days when doubts pop into my head, my hopes are dashed, and God's love seems distant. It's just a part of living in this fallen world… that it's too easy to take my eyes off of God, and forget that He is EVERYWHERE, all-powerful, and always faithful.
Like mine, your heart may long for bigger faith, greater hope, and more love, but how do you get them? That's what I set out to address, with this FREE booklet. Over several weeks, I thought and prayed about what has helped me, and even some things I know will help that I need to do more of. The result, is 40 Ways to Have Bigger Faith, Greater Hope, and More Love.
Included in this e-book:
14 ways to grow your faith
12 ways to have more hope
14 ways to invite more love into your life
PLUS a bonus section: 10 ways to find more peace and joy!
Some of these 50 total items are things to read, and others are suggestions for prayer and action items. ALL are wonderful and encouraging, but I imagine there will be two or three (maybe more) that really to speak to you in the unique life situation you're currently in.
AND, along with the booklet, I've included two FREE printables: a faith, hope, love printable, and a 1 Corinthians 13:13 printable (in both 5×7 and 8×10, so you can print the size you want).
⇒ Even if you only find ONE thing in this booklet that you haven't already done, that ONE thing could make a huge difference in your life! Just like the book I read, that has made such a huge difference in my faith (it's #5 of 40 in the booklet).
And remember, you also get the two free printables above, along with the e-book.