This post and the photos within it contain affiliate links. If you make a purchase after clicking an affiliate link, my ministry gets a small commission, with no extra cost to you. See my full disclosures HERE.
Okay, y'all! Several people have asked me recently, how I make my hand-lettered designs. And I've decided that the best way to explain my creative process, is to show you in a blog post. Are you ready?
First, a bit of background info…
I stumbled onto hand-lettering and brush calligraphy quite by accident. You know how some youths love to make cute letters and doodles in their notebooks? Well, that was not me. I looked upon my friends hand-lettered doodles with envy…little did I know that I would fall in love with lettering many years later!
A few years ago, I ordered some brush markers to use for Bible journaling. I only used them for that purpose once, and decided they didn't work as well for Bible journaling as I would've liked. But then I started seeing all the amazing lettering projects people were making with those markers! Pinterest and Instagram were full of gorgeous examples, and I just couldn't help it…I had to learn how to do that too!
What really kicked things into high gear for me, though, was getting Krystal Whitten's Lettering Prayer Journal. That was about two years ago, and my skills and joy in lettering God's word continues to grow. Just recently, I discovered that Krystal published a book called Faith & Lettering, so now I'm using that to grow my skills even more.
My Creative Process
One of the things I love about the creative process of lettering, is that it totally taps into my graphic design background. I can have fun making something by hand, and then use my design and editing software to digitize and perfect the final creation. It's the best of both worlds!
For this post, I'm going to use one of my recent designs—Proverbs 31:25 "She is clothed with strength and dignity"—as an example.
PENCIL DRAWINGS: My designs always start with a tiny sketch, where I can work out the details on a small scale before I create the actual full-size piece. I've found that the more time I spend on the initial design, the better the result will be. You can see on the left, I was still hashing out the details, and on the right, is the final draft.
LETTERING: Once I get a design the way I like it, I sketch it out on large sheet of paper. In the past few weeks, I've experimented with taking a photo of my tiny sketch, enlarging it on my computer, and printing it out. Then I can use my light box to trace the design onto the larger paper. So far, I think it's saved me a lot of time to do it this way!
Then comes the fun part: lettering the words using a brush calligraphy marker. In most cases, I letter in all black ink, but I am learning to create some pretty amazing color blends as well!
DIGITIZING & EDITING: This is always the longest part of the process for me. But, I love it too! Every new design gets uploaded to my Mac, where I painstakingly touch up each and every letter. Many times, I finish by "vectorizing" the art, which creates outlines of each letter so that I can easily adjust the shape, curves, and positioning, and also change the color. My hand-lettering is never perfect; the edges are fuzzy, spacing is wonky, etc. You can see the difference in the finished Proverbs 31:25 design, that it's a lot cleaner and neater.
The better I get at lettering and calligraphy, the less editing I have to do. The first few designs I made, required a lot of "doctoring" to make them look good enough to print and sell. Especially when I didn't do a pencil drawing beforehand!
You can see that especially in my Proverbs 3:5-6 design, which I made almost two years ago. This is still one of my faves, and it's a top seller in my Etsy shop. But as you can see below, it took a lot more work to get it from the raw, hand-lettered stage to the polished final design.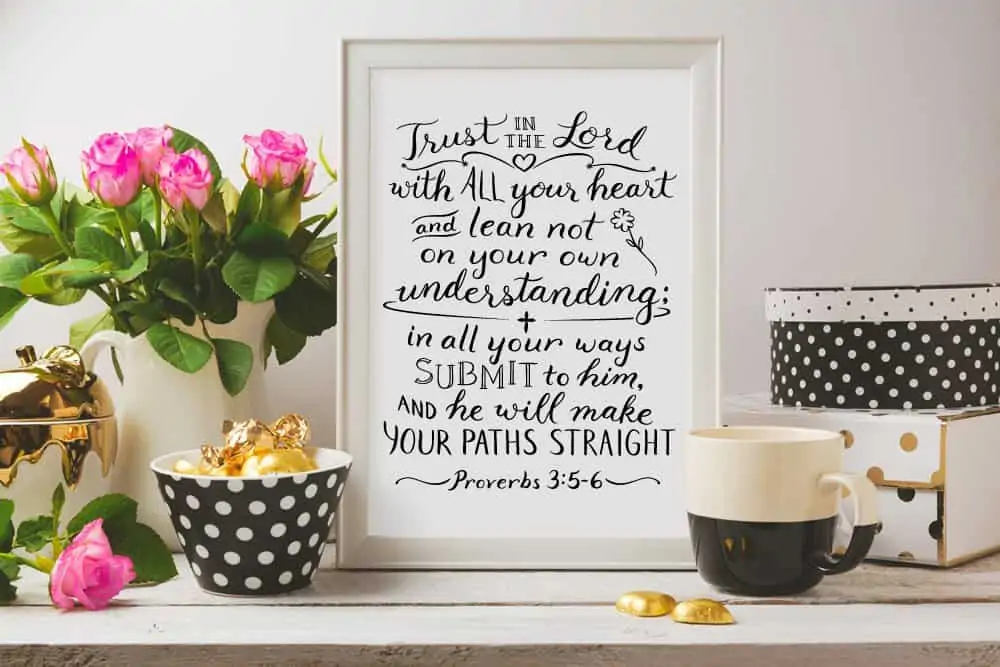 PRINTING: Now, this is the exciting part! There are two ways I can print a design. First, I have an Epson printer that lays down rich pigment inks, which is great for making a gorgeous color print—as you can see below.
But I also have the ability to do foil prints, which are so much fun! Last year, I invested in a laser printer and a foil heat press. This awesome duo allows me to lay a piece of foil over the laser-printed design, run it through the heat press, which results in a super cool foil print!
I know, you probably think I'm crazy for getting so excited over this stuff, but what can I say? I love what I do. Give me Jesus and some creative art supplies, and I'm a happy camper.
Want to learn lettering for yourself?
Hand-lettering can be so much fun, and useful for Bible journaling, card-making, and even taking creative sermon notes. If you're interested in learning, I highly recommend that you check out Krystal Whitten's Lettering Prayer Journal and Faith & Lettering book.
Also, another person I've learned a lot from is Dawn Nicole; I've never actually purchased anything from her, but she has a weekly e-mail with free printable practice sheets, and she's always doing giveaways for various lettering-related products like brush markers.
What should I write about next? If you have any questions you'd like to ask me, or a topic you want me to cover in a future blog post, please let me know!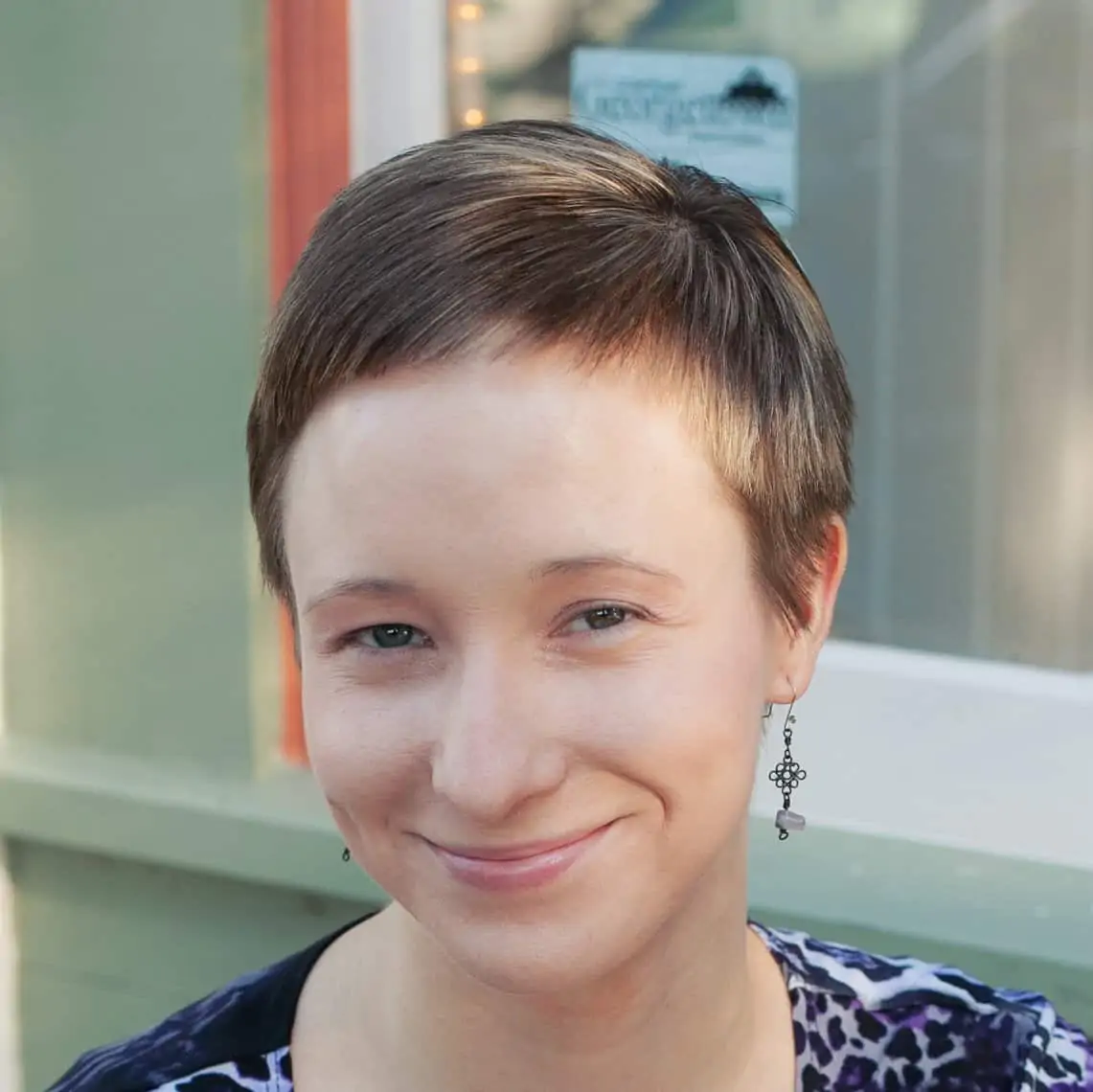 Hi! Thank you so much for visiting Divine Creative Love. I'm a Jesus-lovin' girl, lettering artist, designer, and general creative-at-heart. And, I have narcolepsy. I blog about faith in God, overcoming challenges, and creative topics such as Bible journaling. If you're new here, be sure and subscribe to my list so you won't miss anything!