This post and the photos within it contain affiliate links. If you make a purchase after clicking an affiliate link, my ministry gets a small commission, with no extra cost to you. See my full disclosures HERE.
There is no better way to start the day, than to pray.
But, y'all, I have to be honest. I get so frustrated with myself, because quite often, I roll out of bed and start going about my morning, without even acknowledging God at all. Or when I do remember, it's just something like "Thank you Lord for this new day".
Most days, I do sit down for formal prayer and Bible study, but not until later in the morning. And there are some days when I don't have time for that at all. So, I really feel the need to develop a habit of pray-as-soon-as-my-eyes-open, before I get distracted by everything else.
Do you have a morning prayer practice yet? If you do, you've probably noticed the difference it makes…to set the tone for the day, that God comes first. And perhaps also, to ease your burdens and anxieties as you lay them at the feet of Jesus. And of course, making your requests known to God!
So, knowing all the good reasons to start the day off with prayer, I decided to do something new.
I took my favorite verse, Proverbs 3:5-6, and wrote down a prayer based on that. So now, that prayer sits next to my bed, and every morning I pick up that piece of paper and pray the prayer. At some point, I will probably change it up and pray a different verse. But the point is, to have that prayer written down, next to the bed, so I won't forget.
1-Minute Morning Prayer
Maybe you're pressed for time/scatterbrained/in a fog like I am in the mornings, and this idea of a 1-minute Scripture prayer to start the day sounds really appealing. So, to help you out, I'm sharing the Proverbs 3:5-6 prayer I've been using, plus two additional prayers based on different Scriptures.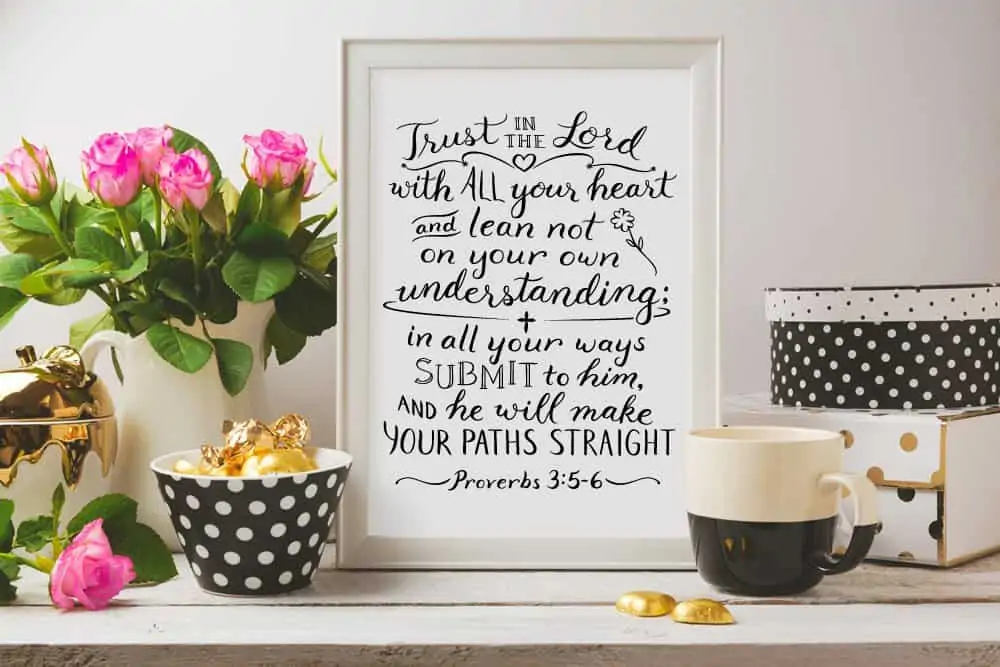 Proverbs 3:5-6 :: "Lord, help me to trust in you with all my heart. I want to rely on your wisdom and guidance, not on my own limited understanding. Today I will choose to submit to you in everything I do, and trust that as I do so, you will make my paths straight."
Philippians 4:6-7 :: "Father God, ease my anxiety today as I choose to leave my concerns and requests in your hands. Thank you for your peace, which surpasses all understanding."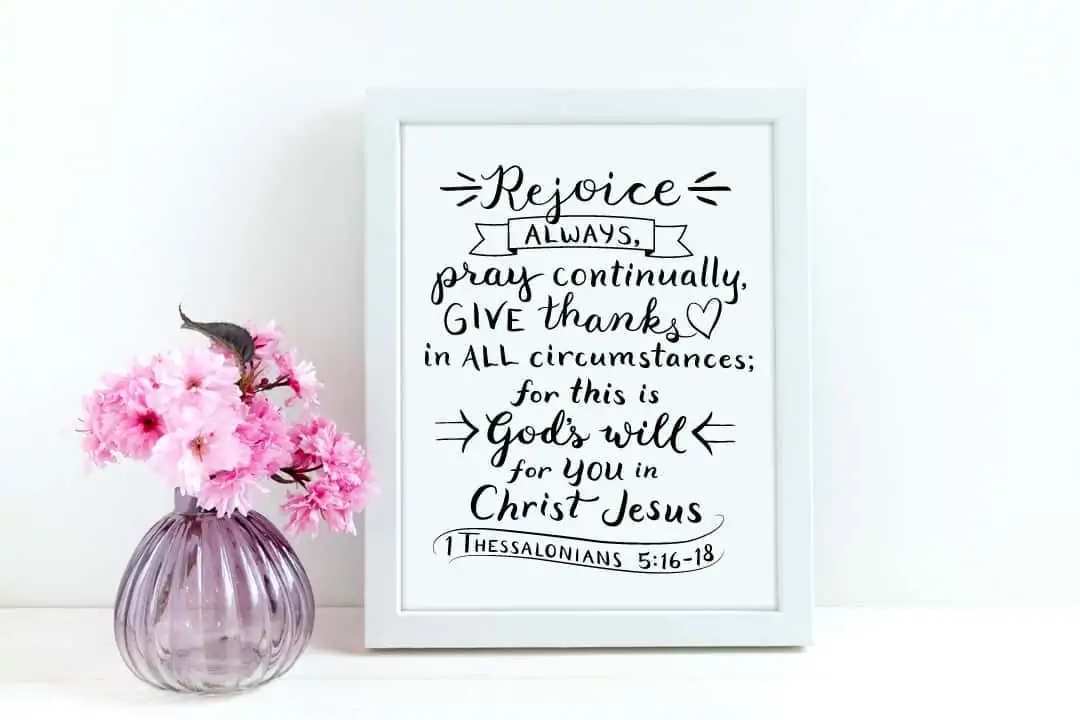 1 Thessalonians 5:16-18 :: "Thank you Jesus, for another new day to rejoice in your love! Help me to remember to pray continually, and be thankful in all circumstances. Amen!"
Of course, you can do this with any verse you like! Tailor it to your current life situation, favorite Scripture, or specific prayer request. Write it down, and put it next your bed, or wherever you'll see it when you first wake up!
Which Bible verse are you going to pray when you wake up tomorrow morning?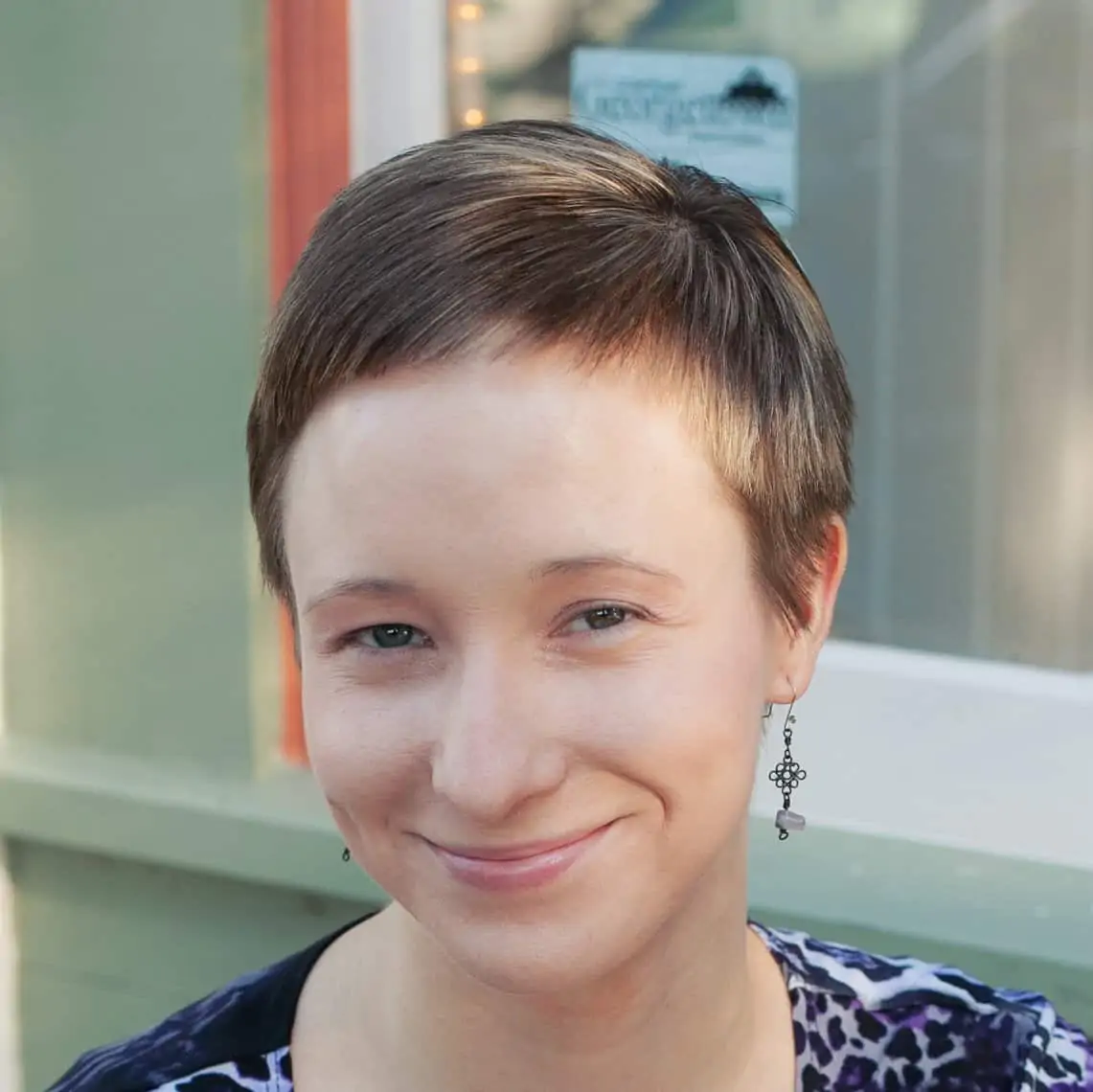 Hi! Thank you so much for visiting Divine Creative Love. I'm a Jesus-lovin' girl, lettering artist, designer, and general creative-at-heart. And, I have narcolepsy. I blog about faith in God, overcoming challenges, and creative topics such as Bible journaling. If you're new here, be sure and subscribe to my list so you won't miss anything!