This post and the photos within it contain affiliate links. If you make a purchase after clicking an affiliate link, my ministry gets a small commission, with no extra cost to you. See my full disclosures HERE.
Hi friends! I've been so excited this week, to get my hands on the brand new Illustrating Bible from Dayspring! And I can't wait to share all the details with you. I've test-driven it with just about every art supply I own, so you can see what bleeds, what doesn't, and how this Bible differs from other journaling Bibles out there.
Up to now, I've only had one journaling Bible—the regular-size, NIV Journal the Word Bible, which has two-inch margins, and off-white, wafer-thin paper. It has served me well for about three years, and I will continue to use it in the future.
BUT, that being said, this new Illustrating Bible is quite awesome! It's very large—9″x9″—and has a spiral-bound design, and a beautiful deep bluish-green cover. It features double-wide four-inch margins, thicker paper for less bleed-through, and wonderfully white pages.
For my first journal in this Bible, I decided to do Ephesians 6:12-18 (the Armor of God). I had this great big lovely stamp set from SweetNSassyStamps, which I never could've fit it all in my regular journaling Bible, but it worked perfectly for this one. But first, let me give you my review, and then later in this post, we'll talk about the Armor of God.
The Illustrating Bible Review: My Honest Opinion
Before I get into the things I LOVE about the Illustrating Bible, I'd like to get the "cons" out of the way. There are only two minor things that I don't like about this Bible. First, it only comes in the CSB (Christian Standard Bible) translation. Normally I much prefer the NIV (New International Version), but I decided to purchase this Bible anyway, because it has so many other enticing features! And secondly, I'm not a big fan of the modern font they chose for the text. My other Bible has a much prettier font, in my humble opinion.
But those are little nit-picky details, that are far outweighed by the positive aspects of this awesome Bible! The two features I'm most impressed and enthralled with are:
WHITE PAPER :: Unlike my first journaling Bible, which had off-white/yellow-tinted pages with lines, the Illustrating Bible has white paper and no lines! Which means, the art that I create in it can really shine. Colors pop more! And there are no lines to detract from the final composition.
EXTRA-WIDE MARGINS :: So much space! With those lovely four-inch-wide margins, I can fit so much more in! More words, more art, more insights, and no need to overlap my art on top of the Bible text. I can definitely see myself choosing this Bible over my other one, in cases where I need more space.
As for the THICKER PAGES of this Bible, I wasn't nearly as impressed as I expected to be. Maybe I was setting the bar too high, thinking that nothing would show through on the other side? But alas, the pages are only thick enough to reduce bleed-through—most things will still show on the back side of the page.
Testing the Paper
This is what you really wanted to know, right? 😉 What bleeds, and when would you still need to prep this Bible with gesso first? I threw every art supply I had at it, and only two things really bled through, as you can see in the photos.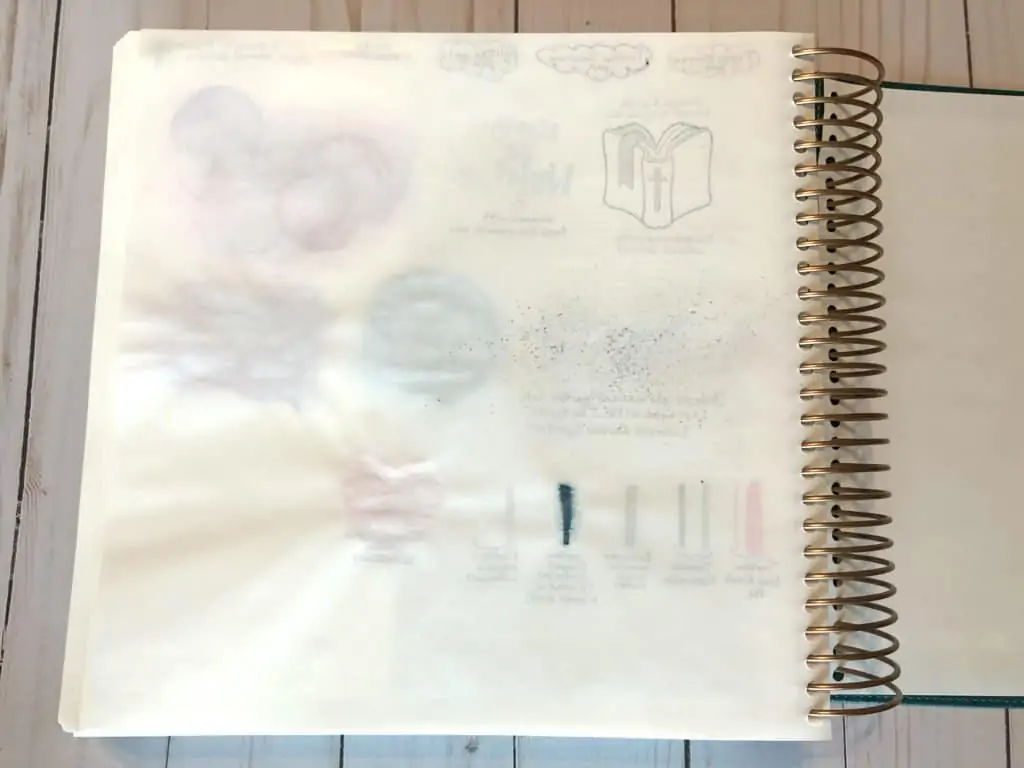 You can see a hint of everything on the other side, even my Prismacolor Premier colored pencils. But what really caused trouble, was spraying Sharpie markers with my ink spritzer (which caused light bleed-through), and using a water brush on top of the Speedball Elegant Writer pen (MAJOR bleed-through). Silly me… after I made this test page, I went back and looked at my armor of God entry in my first journaling Bible. I had used the Speedball pen (for the shield outline), and it bled through a little bit, even though I prepped the page with clear gesso first! Note to self, use extra gesso layers for those pens in the future.
So, let's say you have the Illustrating Bible, and you want to use these supplies. Do you gesso, or not? I would say for pencils, most pens, and ink stamping with pigment inks, you'll be fine putting those on the bare page. But if you don't want anything to show through AT ALL on the back side of the page, then prep with gesso first. And if you're using sprayed ink or paints, it's still better to gesso. You'll notice in the photo, that the page buckled (wrinkled) wherever I used wet paint…so I'll probably still use gesso for those things, just to be safe.
Also, if you're a fan of Tim Holtz Distress Inks, those definitely require gesso first, to ensure optimal blendability. When I put them on the bare page, they stayed right where they landed, and I couldn't blend or smear them around at all. It's much more fun when they blend!
Whew! I think that about covers everything for the Illustrating Bible review portion of this post. Be sure and let me know if you have any questions I haven't addressed here!
The Armor of God
As I mentioned at the start of this post, I had this beautiful large Armor of God stamp set, which I knew would work perfectly in this Bible. The armor of God is something I had journaled about before, but I still didn't really memorize or fully understand that passage.
And I've been feeling like I really need that armor. As I try to love people more, submit to God's will, and gather the courage to share the good news of Jesus (which is way outside of this introvert's comfort zone!), I really need to put on the armor of God daily to defend against Satan's attacks.
I love what the NIV Life Application Bible says in its' note on Ephesians 6:12…
We need supernatural power to defeat Satan, and God has provided this by giving us his Holy Spirit within us and his armor surrounding us. If you feel discouraged, remember Jesus' words to Peter: "On this rock I will build my church, and the gates of Hades will not overcome it." (Matthew 16:18)
So in a nutshell, if we arm ourselves with God's truth, righteousness, peace, faith, salvation, and the Holy Spirit, studying his Word, and praying in the Spirit, there is nothing that can stop us from achieving our God-given purpose!
For the Bible journal, I used a wet paintbrush and my Faber-Castell Metallic Gelatos to highlight each piece of armor in a different color, and add a pearly white metallic background to the top corner (underneath "Armor of God"). And then with ColorBox pigment inks, I stamped each piece of armor in the same color to match the highlights. I didn't use any gesso, because even though the Gelatos do make the page wrinkle a bit, I was only covering a small part of the page with them. If I want to use them to cover the whole page in a future Bible journaling entry, I'll probably prep with gesso first.
So that's it! I very much recommend the Illustrating Bible, especially if you desire to have more space in the margin for your creations, or you want thicker pages that won't always require gesso. Thanks for reading! You are loved. 😉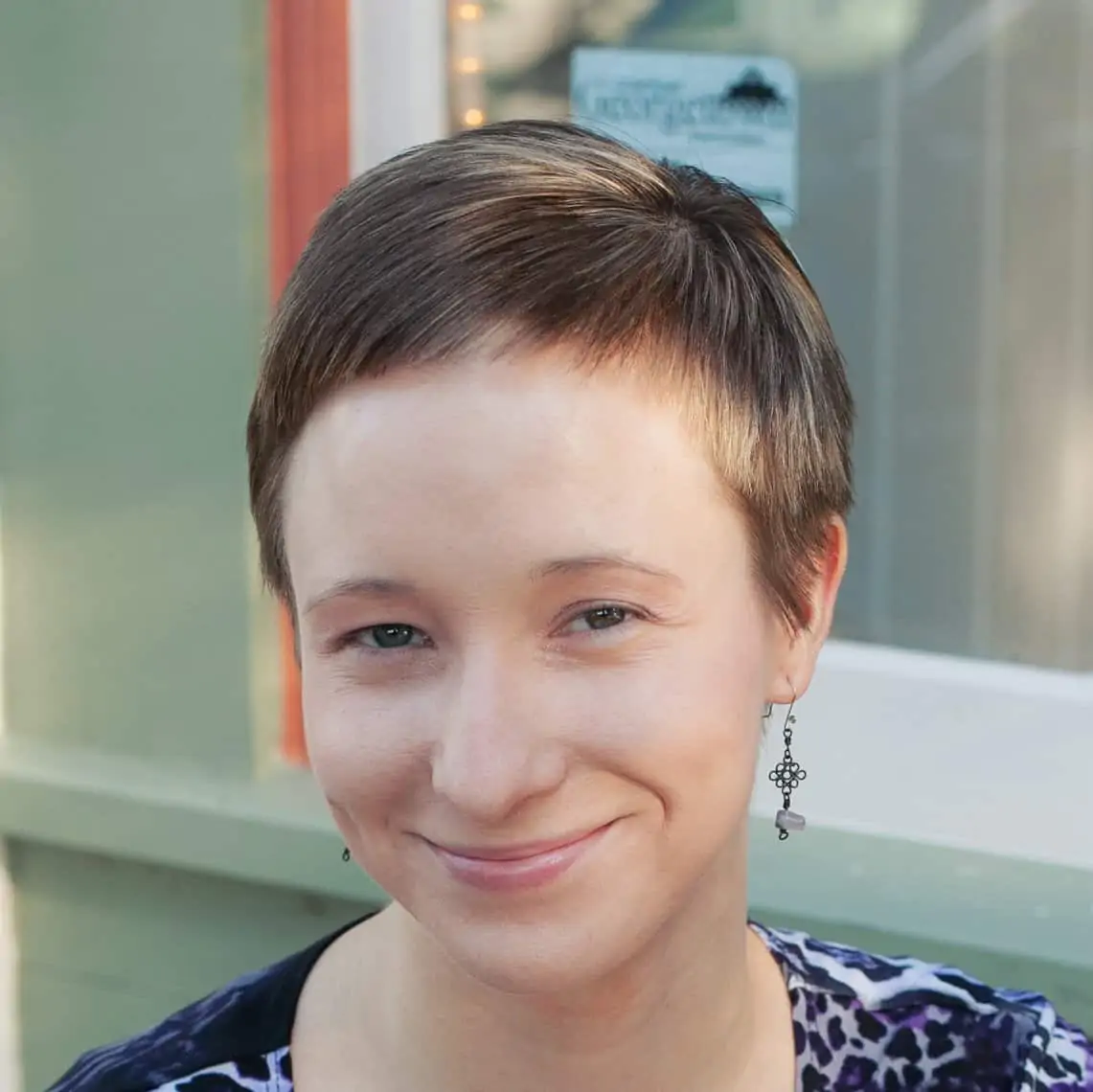 Hi! Thank you so much for visiting Divine Creative Love. I'm a Jesus-lovin' girl, lettering artist, designer, and general creative-at-heart. And, I have narcolepsy. I blog about faith in God, overcoming challenges, and creative topics such as Bible journaling. If you're new here, be sure and subscribe to my list so you won't miss anything!