The idea of coloring or painting in your Bible can seem daunting, even for an "artistic" person. But you CAN do it! All you need is a desire to spend time in God's Word. Here are five ways for how to start Bible journaling!
This post and the photos within it contain affiliate links. If you make a purchase after clicking an affiliate link, my ministry gets a small commission, with no extra cost to you. See my full disclosures HERE.
Yes, it's true: I love Bible journaling!
It seems all the rage right now, but back in 2015, I had never heard of it. Then one day, I saw it on Instagram. My favorite author had posted an image of her Bible with words and images pasted and painted on the pages. I was totally blow away! You mean people are coloring in their Bibles? That's crazy-town.
Nevertheless, I was intrigued. I had very little idea of how to start a Bible journal, and lot of trepidation…but at the beginning of 2016, with my brand new journaling Bible in hand, I made my first journaling entry. It was an attempt at watercolor painting and stamping on Psalm 150. And I was terrified!
And yes, it was a bit messy, but it turned out just fine. And the more Bible journaling I did, the more confident I became. Little did I know, though, how much Bible journaling would help me to fall in love with God's Word, and grow in my relationship with Him.
If you've thought about how to start Bible journaling, but haven't yet because it seems too daunting, I feel you. Really, I do. But I can also say, Bible journaling has been such a blessing, and I'm so glad that I didn't let a little fear keep me from getting started.
Bible Journaling Basics: It's All About PURPOSE
What is Bible art journaling, really? It's a lot of fun, yes, but at its heart, Bible journaling is all about growing in your relationship with God. And when you experience that growth, it's truly amazing! Here are just a few of the purposes and benefits of Bible journaling…
Worship God: You can marvel at the truth you find in the Scriptures, and praise God for His goodness, while you bring Bible verses to life through art.
Meditate on His Word: Just be still! It's so beneficial to sit with a particular passage of Scripture, study different translations, and ask God for greater understanding of the message (what does He want you to learn?) Then start journaling, thinking and praising and praying as you go. You may even find that God reveals things to you through the process of creating!
Record & Reflect on Your Spiritual Journey: Every journal "entry" can be dated, so that over time, you can look back and reflect on how God has grown you. After you've accumulated quite a few entries, your Bible (or notebook) becomes like a treasure trove of favorite verses, teachings that you want to refer back to again and again, epiphanies that you want to remember, and much more. You can flip through them, entry by entry, just to refresh your memory/renew your commitment to live out the Scriptures/reflect on all the things God has shown you in the past.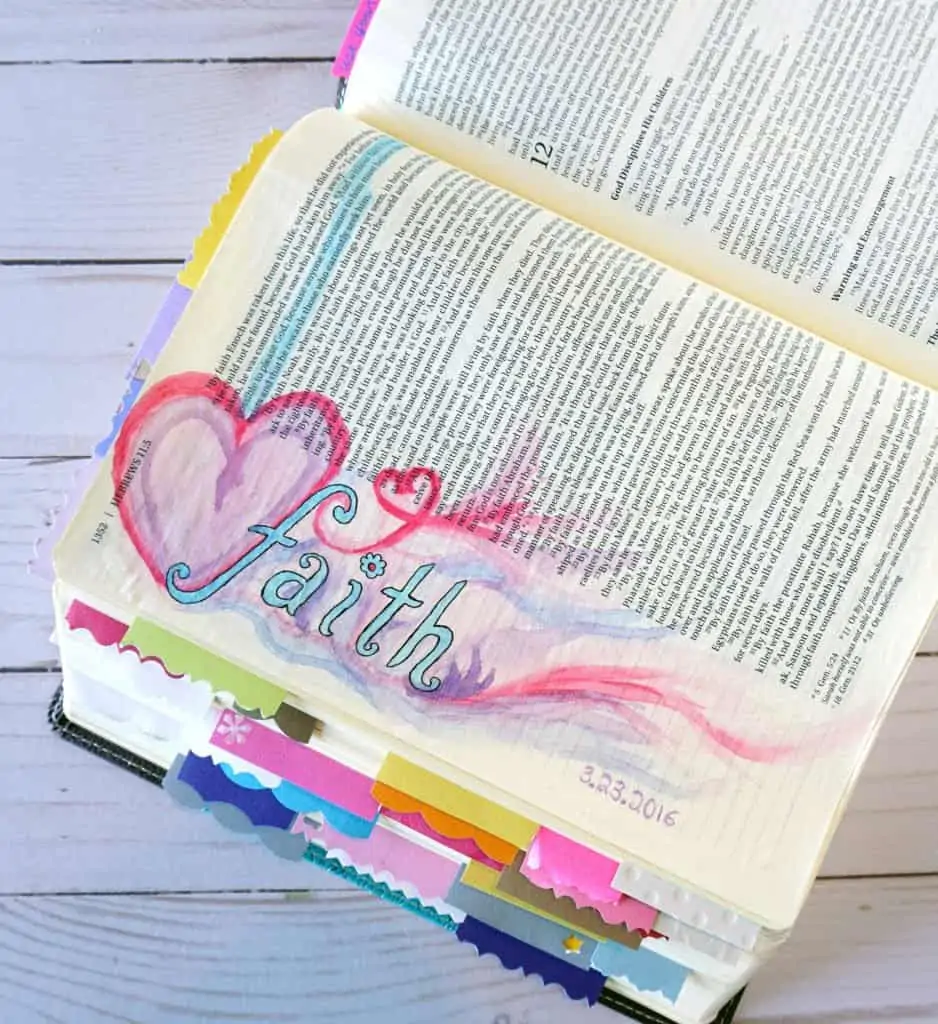 How to Start Bible Journaling: 5 Different Ways
Now that you're thinking of all the compelling reasons you should try it already, let's talk about how to start Bible journaling.
You might be wondering, what do you need for Bible journaling? You'll notice with these first two faith journaling ideas, that journaling doesn't have to be difficult or expensive! It's easy to get started on the cheap, with just a few simple Bible journaling supplies.
1) With a notebook, or a journaling Bible
The first thing you'll need, is of course, something to do your journaling on. One of the easiest ways for how to begin Bible journaling, is with a notebook and a pen or pencil. With this option, you can keep your journaling separate from your Bible, it's very inexpensive, and a great entry point for Bible journaling for beginners.
But, if you'd like to highlight, take notes, and create art right inside your Bible, a dedicated journaling Bible is the way to go. These Bibles usually come with two-inch margins, to provide ample space for journaling. There are lots of journaling Bibles available, in different versions like NIV, KJV, or ESV. (Mine is this NIV Journal the Word Bible, with the pretty teal cover). And if you want even more journaling space? Check out my review of the Dayspring Illustrating Bible, which boasts four-inch margins.
2) Super Basic (pen/pencil, highlighter)
You DO NOT need any creative skills to do Bible journaling! If you prefer writing over art, or you enjoy doodling in pen or pencil without adding color, you can totally do that. Highlight any Scriptures you want to remember, jot your thoughts in the margins, and even add sticky notes as bookmarks so you can refer back to key passages later.
This is also the way to go, if you prefer to keep it simple, and don't want to acquire a bunch of extra Bible journaling supplies. Bonus points if you already have some things at home, like highlighters. Use what you have!
3) Basic art/coloring (crayons, colored pencils, gel pens, or markers)
For a super easy way to get into art journaling, you can simply color in your Bible while you meditate and pray on the meaning of the Scripture. It's very relaxing and doesn't require a lot of effort, especially if you buy a journaling Bible with pre-printed art in the margins, like this Beautiful Word Coloring Bible.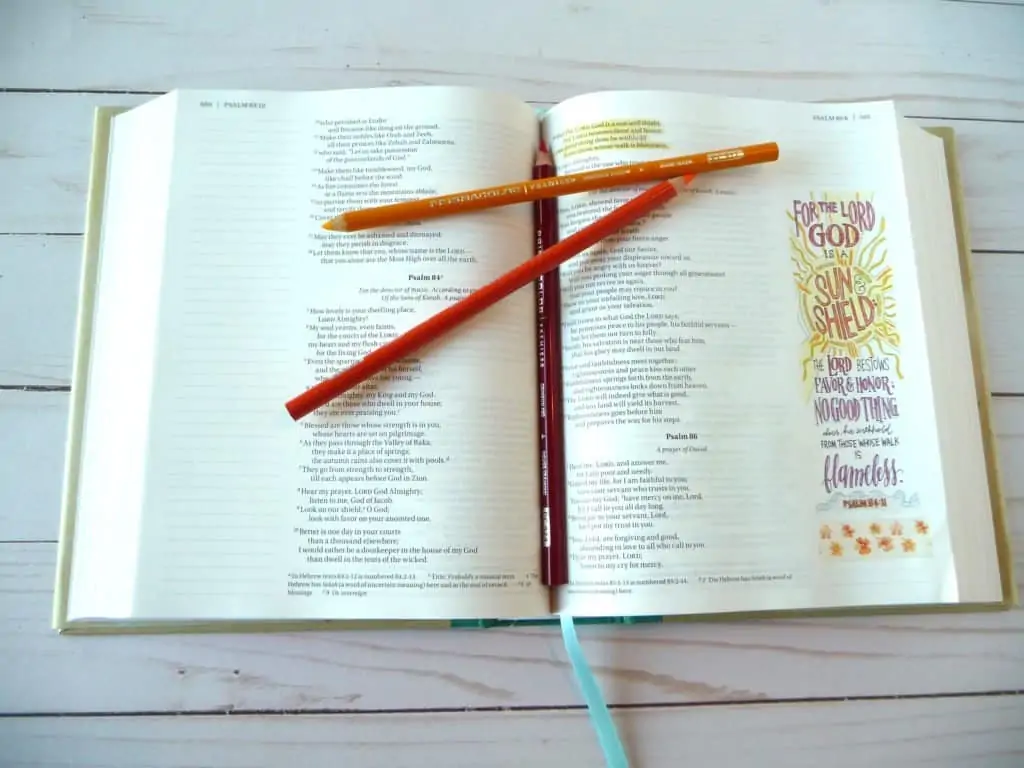 4) Scrapbooking style (stickers, washi tape, and other add-ons)
This is a fun option if you enjoy the ease of pasting in some ready-made pieces to create a collage. You can find tons of stickers and other goodies that are made specifically for Bible journaling. And the cool thing about using pre-made items, is that you can get lots of great Bible journaling ideas just from the materials themselves! In other words, it helps you be inspired, when you've already got those cut-outs, stickers, and washi tapes in front of you.
5) Wet media (gesso, paint, stamping, etc.)
Yes, you can be courageous and actually paint in your Bible! This is what I would consider the most advanced of all Bible journaling techniques, just because it can take more time and effort than easier things like coloring. But, if you want to paint in your Bible, don't let that stop you! I sure didn't.
And don't think that just because Bible pages are thin, they can't be painted, inked, or stamped on! By using clear gesso to prep your Bible page, you can add nearly any wet media, with little-to-no bleed-through. Like I said before, it's a bit more involved and time-consuming than other methods, but it's so much fun and yields amazing results.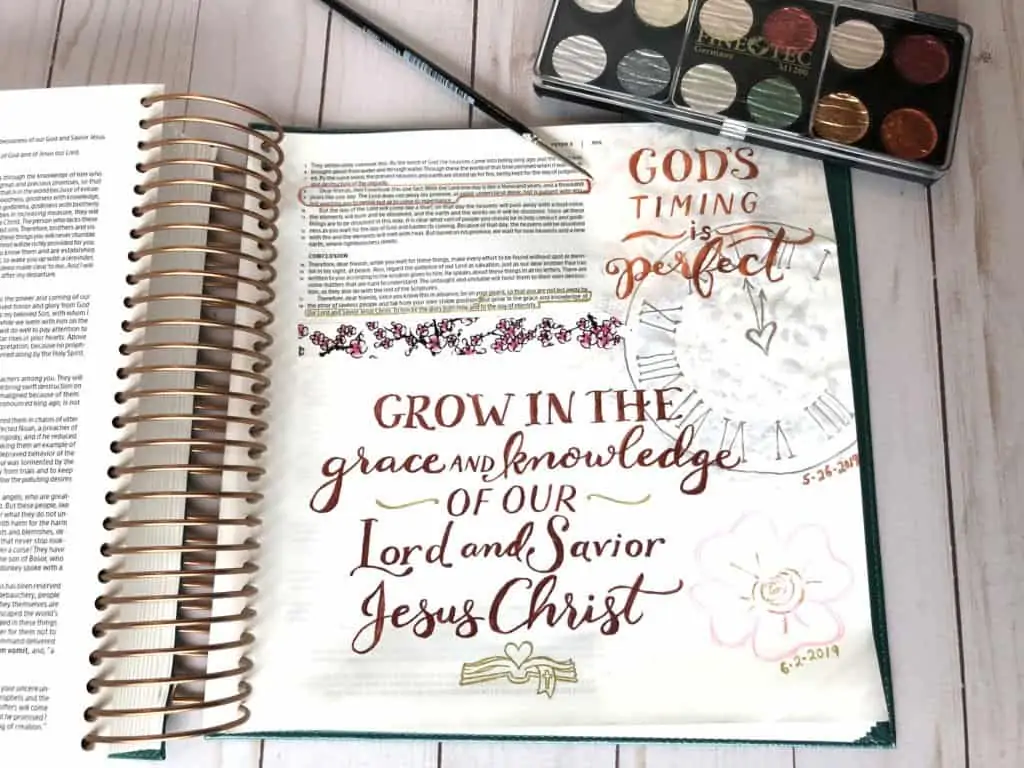 Of course, any of these techniques can be combined as well. Personally, I do a lot of wet media, and occasionally I use Prismacolor pencils and washi tape too. Do whatever works for you!
Need some extra hand-holding to get started Bible journaling? I created this awesome e-book just for you. It contains a weekly Bible study plan, with journaling prompts to spur your creativity! Just follow the plan, and develop a habit of studying God's Word through journaling.

Recommended Bible Journaling Supplies
So, to recap, you have lots of great options! And you can always begin with supplies that you have around the house (like highlighters), and then add new items as you get more into journaling.
Here are a few of my favorite and most-recommended supplies (click here for a more complete and up-to-date list):
I hope these ideas have helped you feel more confident about how to start Bible journaling! Please don't be afraid to dive in…you never know until you try, how much Bible journaling could grow your love and appreciation for God's Word. If you struggle with how to want to read the Bible, journaling may be a great jump start for you.
In essence, Bible journaling is for anyone and everyone who wants to grow in their knowledge of God's word, and in turn develop a deeper relationship with Jesus Christ. You just have to decide how you want to go about it, and then get started already! The point is to get in the Word and grow closer to the One who created you and who adores you!
Want more help getting started with Bible journaling? Check out 12 Ideas to Write in a Bible Journal, 5 Bible Journaling Hacks for Non-Artists, and also Bible Journaling Ideas You Can Do In Less Time.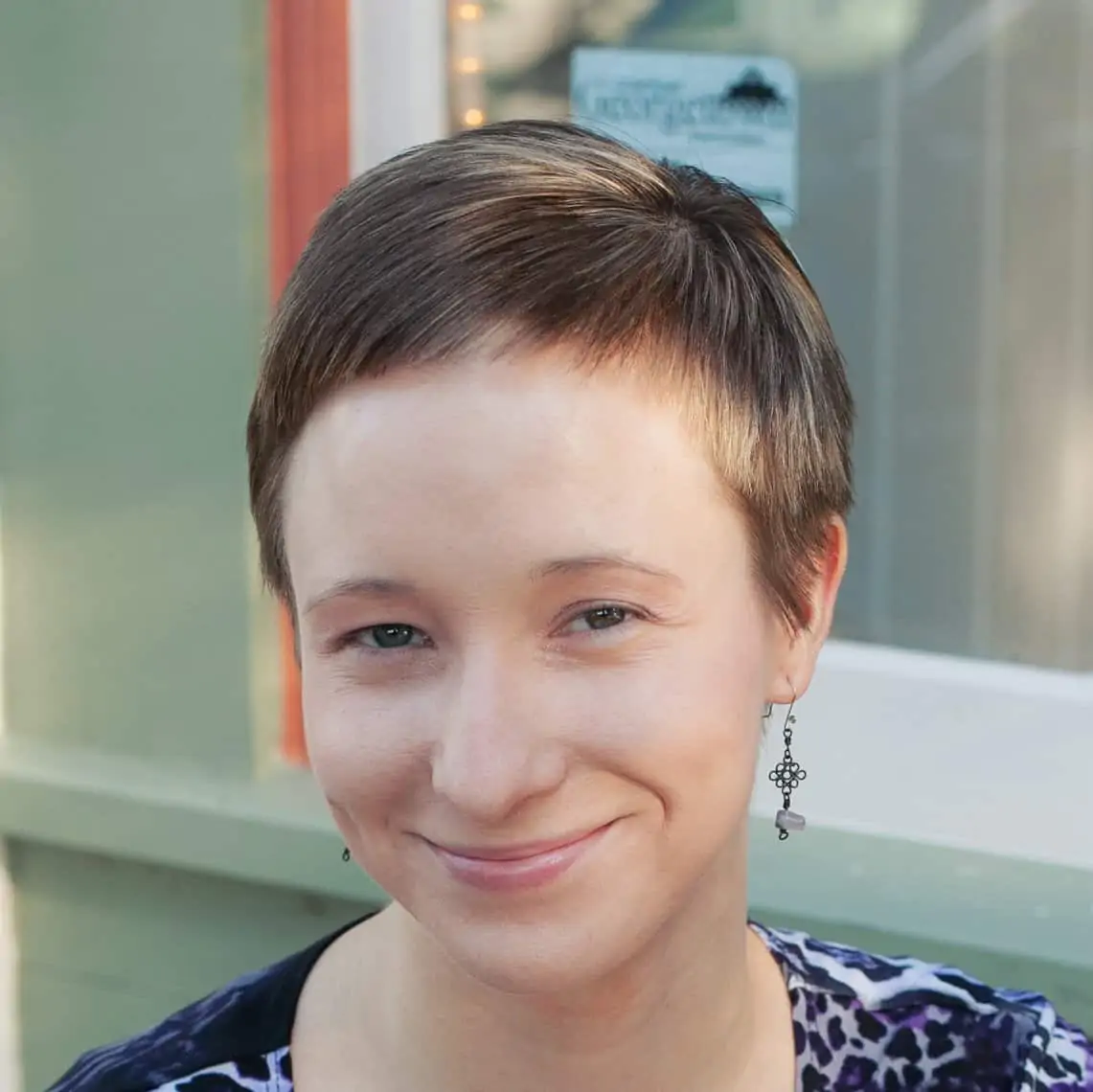 Hi! Thank you so much for visiting Divine Creative Love. I'm a Jesus-lovin' girl, lettering artist, designer, and general creative-at-heart. And, I have narcolepsy. I blog about faith in God, overcoming challenges, and creative topics such as Bible journaling. If you're new here, be sure and subscribe to my list so you won't miss anything!